Chara Fortune Plus Series - Hunter x Hunter: Can You Become a Hunter? Fortunes Box Share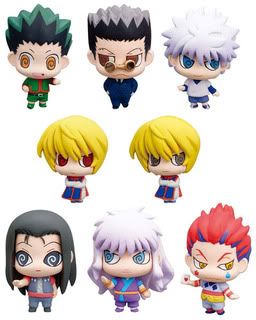 Release date
: Mid June 2012
Payment method
: Paypal only
Ships from
: USA
The price of each charm is $7, domestic shipping will be $2.50 for the first charm, more charms will be calculated.
I will take reservations for two spots each character, since there are 10 characters total and a box comes with 18 charms so there will most likely be doubles of almost every charm.
This means that the first person in line is guaranteed the charm (barring something weird happening, like me getting a box full of Killuas), while the second is on a wait list in case the first person withdraws or for the inevitable extras.
Upon receiving the box I will contact the first person in line for each charm. If they do not respond to me within 72 hours I will contact the next person in line. You do not need to send me any money until I invoice you, when the charms are ready to be shipped from me to you. I expect to receive the box sometime in late June/early July.
At the moment I am only ordering one box, but if I get enough reservations for each character I might order a second one. If I do order a second one, combined shipping from Japan for both boxes would probably bring the price of the charms down a little bit.
Characters:
Gon:
nozomi_no_da
,
willeke4439
Killua:
nozomi_no_da
,
willeke4439
Kurapika:
nozomi_no_da
Leorio:
nozomi_no_da
Hisoka:
primevalsoup
,
pixel_fluff
Silva:
willeke4439
Kurapika (alternate version):
willeke4439
,
primevalsoup
Illumi:
willeke4439
Secret:
primevalsoup