Prices do not include shipping unless stated otherwise. All items come from a non-smoking home, but we do have animals, both cats and dogs.

As of June 03, 2009, Paypal is charging fees for every transaction, whether or not you have a personal account. As such, I will now be including the fees in the price of the shipping/handling. I apologize for any inconvenience.

Payments via personal check or e-check will ship out once cleared. (E-check is usually a few days, personal check I will wait 10 business days.)


=+=+=+=+=+=+=


Newer Stuff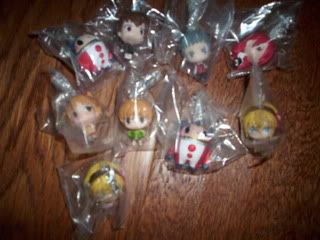 Game Characters Collection Mini Persona 3 & Persona 4 Part.II Charms
Brand new, I only opened each box to see what each figure was. I can ship them with or without a (flattened) box.
Characters available: Teddie x 2, Kimono!Aigis x 2, Minako (P3P Protag), Akihiko, Mitsuru, Secret!Yosuke, Chie
$8 each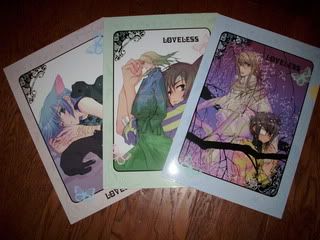 Loveless File Folders Set of 3
Brand new. These are made of cardboard. Pic of the back of the folders
$15




Escaflowne: The Movie Ultimate Edition
In excellent condition, comes with all 3 discs (2 DVDs, 1 soundtrack). Slipcase in great condition, except the back left corner is coming a little loose/is bent.
$8




Gurren Lagann Complete Collection - $20 [SOLD]
Gravitation 4-DVD Boxset w/ Backstage Pass - $20 (or trade for the thinpack version)




Junjou Romantica volume 1-5 & 10 4 only
In excellent condition, read a few times.
$3




=+=+=+=+=+=+=


Manga



In great condition.
Il Gatto Sul G volume 1 - $2
Fake Fur - $1




Return to Labyrinth volume 2 - $2
Black Knight volume 1 - $2 [SOLD]
Gorgeous Carat volume 3 - $2 [SOLD]
Girl Genius Omnibus edition volume 1 - $2 (first part of binding is loose)


=+=+=+=+=+=+=


DVDs & CDs




Le Chevalier D'eon DVDs 1-6 + Box (Complete)
DVDs watched once, volume 1 still new in shrinkwrap. There is a small dent on the artbox: picture here.
$25 [ON HOLD]


Hikaru Utada "Colors" CD Single


In good condition, listened to a few times. Case has a 1" crack on the front. Includes the songs "Simple and Clean" and "Simple and Clean - PlanitB Remix" from Kingdom Hearts.
$4




Ranma 1/2 1991 Song Calendar (bottom tine holding the top of the case to the bottom is broken) - $6
Gundam Wing Operation 2 - $6
Do As Infinity "Deep Forest" - $7 [SOLD]




El Hazard: The Wanderers Complete Series - $15
Ouran High School Host Club Part 1 - $13 [SOLD]



=+=+=+=+=+=+=


Miscellanious



Cardcaptor Sakura Li Syaoran Plastic Clip - $4
Yun Kouga Loveless Postcards (Set of 4) - $10 [Pic of All 4 Kinds]
Fullmetal Alchemist Edward Elric Sound Drop Keychain - $4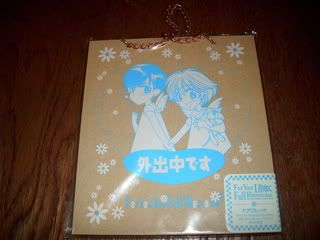 Hanazakari no Kimitachi e (Hana-Kimi) Double-Sided Door Plate - $10


Tactics Furoku Lot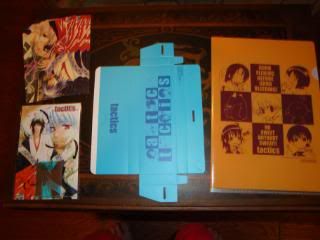 Sold as a set. Includes Clearfile, plastic box, 3 copies of a postcard, and what looks like another postcard packaged with a little slip of plastic with a picture of Muu-chan on it.
$5


Kingdom Hearts 2009 Comic Calendar and Final Fantasy Dissidia 2 Postcard Set


Both in good condition, the KH calendar was displayed. The Dissidia postcards were obtained through the Square Enix member rewards program.
Kingdom Hearts 2009 Calendar - $7
Dissidia 2 Postcard Set - $2


Kyou Kara Maoh! Keychain Figures


A brand new set of keychains still in their plastic, although the paper inserts are bent. Figures include Conrad, Gwendal, Yuri, Wolfram, and Gunter.
$6 each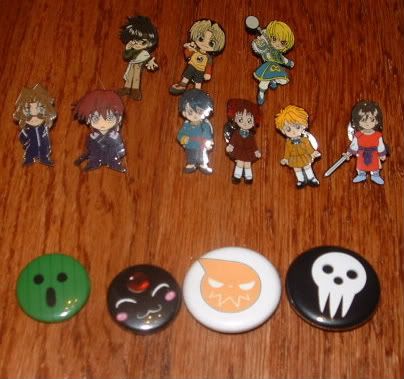 Assorted Pins
Enamel Pins - $3 each (Aya, Youji, Hikaru, Kurapika, Fushigi Yugi pins [SOLD])
Larger Round Pins - $2 each [SOLD]
Smaller Round Pins - $1 each [SOLD]




3" CD Singles - FREE
Get Backers OST 2 (bootleg) - FREE
Kimahri or Nooj (some paint chips) - $1
Seymour (Damage) - $1


=+=+=+=+=+=+=


Items Sold

Inuyasha Symphonic Theme Song Collection CD "Wind"
In great condition, only listened to a few times. Offical avex mode release.
$5 OBO


Any questions feel free to e-mail me at empressminako[at]yahoo[dot]com, or leave a comment.

Payment Methods: I take Paypal, or anything that the bank won't charge me fees for.

I am also willing to trade. Show me your artbooks or anime merchandise (especially cups!) I'm also willing to trade for manga, specifically volumes from the following series:

Hunter x Hunter volumes 23+
Tsubasa Reservoir Chronicle volumes 21+


If you've bought something from me, please leave feedback at this post. Thank you!